een on www.lefigaro.fr :
he French club of millionaires by MOHAMMED AÏSSAOUI(October 2007)
NSTEAD OF going into ecstasies over the «queens of suspense» and other Anglo-Saxon "masters" who sell books by millions, it would be necessary to speak also about our novelists – capable of competing with the best worldwide, and who are ignored by the medias, or even despised. This week, three authors of bestsellers made in France hold the top of the picture.
HE AUTHORS AND BOOKS. Each one has his specificity. Juliette Benzoni is our queen of the historical novel. At Eighty-four years old, – she publishes two-three books a year since 1963. This year, – she is in the news with "The Queens of the suburb" (Bartillat) where she highlights the feminine destiny of modest origin who become myths (Gold helmet, Édith Piaf, the Lady of the Camellias). And, in her more classical register, – volume I of "the Blood of Koenigsmark" (Perrin). (…)
UCCESS. Prolix novelists, they are a bit the successors of the serial writers. For the editor, Constance de Bartillat, «Juliette Benzoni knows straightaway in one sentence to camp a historical decor, an atmosphere, to let the characters come alive while preserving the rigour of facts». – She sells about 400 000 copies a year, among which a third via "France-Loisirs" and "Le Grand Livre du Mois". (…)
Click here to read the entire article but in french
Dates which have marked France's History – by Mohammed Aïssaoui (Febuary 8th 2005)

INQUIRY : A book rehabilitates the History's chronology. Some authors tell the facts that marked them.

How many key dates in the History of France are we able to remind ourselves and comment accurately? Two, three, five, maybe? Pierre Perret (a famous French singer) admitted his own gaps in knowledge and only gave us two dates: 1515 and 1789. Michel Boujenah (French actor and humorist) answered with a quip: "1963″, the year of his arrival in France … But, at least, the singer and the actor let themselves play our game. For many years, teachers of History do no longer learn systematically the timeline to their students. A passionate collective work, titled "1515 et Les Grandes dates de l'histoire de France" (Le Seuil publisher) (1515 and the important dates of the History of France), is trying to restore this learning. "For some decades, students have almost stopped memorizing the chronology at school. As a result, the sense of temporal depth, references which could guide in the reading of the past, have faded, "explains Alain Corbin, who directed the reading of the books where fifty historians – among them, Jean Favier Jacques Le Goff, Pierre Nora, Michel Winock – take stock of current knowledge from sixty important dates in the History of France. Sixty dates, it is not much to cover a period which goes from 600 BC to 1919 – so we will not find the date so dear to Michel Boujenah – but if we manage to remember them all , we may avoid the "dunce cap". (…)
(…)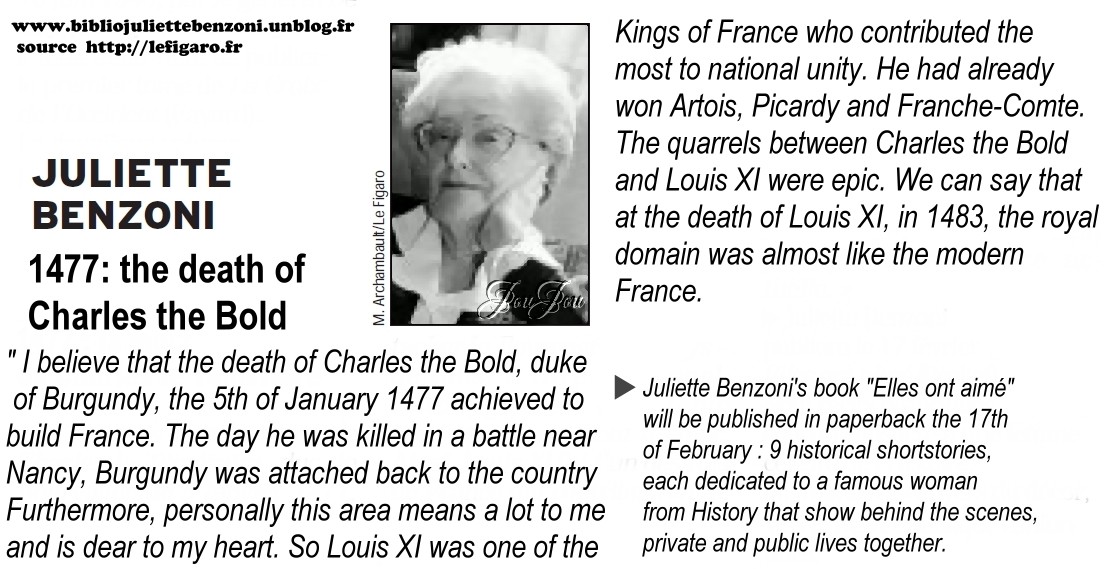 The ten French novelists who sell the most – Awards 2004 by Mohammed Aïssaoui and Dominique Guiou (18 January 2005)

« Le Figaro » newspaper makes for the very first classification – all editions together – of the successful authors.
None of them won a literary award this year. And yet, as a matter of selling, Le Figaro shows here the most significant French novelists. From Marc Levy, number one on our list, to Juliette Benzoni the tenth, through Bernard Werber, Amelie Nothomb, Fred Vargas, Anna Gavalda … Our list of price winners shows at least one thing: the French like to read stories in the old fashion way and buy books, and there are novelists to fulfill their desire, novelists who sell a lot, such as Dr. André Soubiran and Maurice Dekobra or, in the nineteenth century, Xavier de Montépin and Eugene Sue. The inquiry gathers that all the sales made between January 1st and December 31st of 2004, included the original editions (so-called "large format"), the paperback editions, from all distribution circuits, from the two clubs "France Loisirs" and "Le Grand Livre du Mois". The result also shows the immense weight of these successful authors. All those ten together, weigh heavily in the French edition. Let's judge: "These ten authors realize 11% of modern fiction sales (or 7.1 million copies sold) and 11% of the value (73.6 million of euro in turnover," says Odile Ropert, analyst "book marketing" in GFK France. Imagine a publisher who has in his stable those ten novelists! What a dream! Especially since these authors have the particularity of having a regular fertility, of remaining faithful to their editor and of not posing as celebrities! (…)
These ten authors have sold over 7 million of copies and made 73.6 million euro in annual turnover

(Mark Levy, Bernard Werber and Amelie Nothomb are the winning trio! To make the classification of the ten French-language authors who, for the sale, are the most successful in 2004, we considered the fictions (excluding youth literature and theater). And that only in France, all editions together: so the sales of the original edition, added to the books sold in paperback and those distributed by the clubs. "Le Figaro" has surveyed all publishers to identify the number of copies sold during the year – from January 1st to December 31st – for an appointed author, including the paperback editions such as Pocket, J'aime, Folio, Babel; without forgetting ""France Loisirs and "Le Grand Livre du Mois" for the books distributed by these clubs. The firm GFK provided the results that confirm classification, with its panel books. This is a panel distributor based on actual sales ("outputs fund "). All distribution circuits (supermarkets, bookstores, cultural superstores, non-book kiosks, Internet, department stores) are represented.
The winners: ) : Marc Levy (1,520,000 copies) – Bernard Werber (1,319,000 copies) Amelie Nothomb (1,237,000 copies) Fred Vargas (1,118,000 copies) Anna Gavalda (718,000 copies) Christian Jacq (713,000 copies) Eric-Emmanuel Schmitt (700,000 copies) Jean-Christophe Grange (510,000 copies) Christian Signol (432,500 copies)
Best-sellers with unknown faces (by Olivier Delcroix, Nicolas d'Estienne d'Orves, Sébastien Lapaque and Sébastien Le Fol — 11th of June 2002)
Everyone has at least once heard of Christian Jacq, John Grisham, Stephen King, Mary Higgins Clark or Michael Crichton. Incontestably, these are the most read authors in the world. In the shadow of these high-profile stars, evolve almost unknown novelists, who nevertheless remain bestsellers. We never see them on television shows and they rarely have the honors of critics. Yet the public continues to plebiscite them. Without fanfare! Who are these writers as prolific as popular? How did they set their success and fame? Most of them are part of the French tradition of the popular novel. These are the heirs of the nineteenth century feature writers. So is Pierre Naudin, who since 1978 continues a monumental fresco on the Hundred Years War. So is Juliette Benzoni, the Chouanne of historical novel. It is no accident that she started her career in the popular press. Just as for John Diwo, the specialist of our little disappeared crafts. Others are "authors of gender". G.-J. Arnaud, the most prolific of them all, who is a delight for readers of crime fiction. As for Serge Brussolo who thrives especially in the fantastic and recently in the youth literature. Their readers have often discovered them from a book club catalog such as "France Loisirs" or "Le Grand Livre du Mois". The prescribing powers of these two institutions are very important. To measure their audience, you simply have to check their membership numbers. The one of France Loisirs, for example, reached four millions. Another particularity of these authors is their assiduity at book fairs held throughout the year in the Provinces. Because their success owes a lot to the readers of this "France from below", about which we talk a lot lately – as to women also. They are the largest part of novel readers. A successful Janine Boissard, whose books talk about family and couple issues, attests this. From Janine Boissard to Jean Diwo, we can see that these authors have very different worlds, even completely opposite. This is proof that there is no recipe to seduce the public. We need therefore to look for their secret in their journey and their writing. Portraits of the unknown soldiers of Bestsellers (…)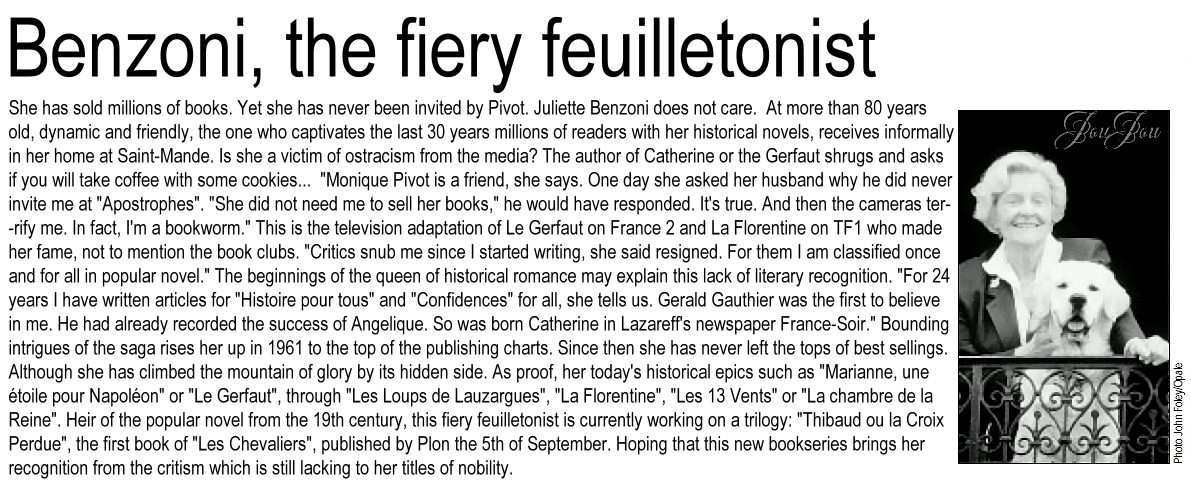 The secrets of prolific authors by Sébastien Le Fol and Anthony Palou (6th of March 2001)

You cannot blame an author to write too much. This is silly because this is his job. That would be like blaming a butcher to have cut too many sirloins during his day. If the meat is good quality, no matter the flow. On the other hand, has anyone ever criticized Mozart to have too much composed or Picasso did too many paintings? No. It seems far away the time, when our writers were publishing four, five, six books a year. Victor Hugo, Balzac, Alexandre Dumas and close to us, Georges Simenon, who published under their name or under various pseudonyms something like 512 novels
Today, we get worried about an author when more than one book a year is published. The period likes smallness. Rarity is a sign of quality.
That was true for Lautreamont or Baudelaire. When you look, for example, at the page "from the same author" for the academician Henri Troyat, you are amazed by such a production. Not less than ninety books – an average two each year. You tell yourselves that it's not much, twice a year. That it is possible. You must love to tell stories, not limit your imagination, leave your inspiration's tap open while avoiding overflow. "These are the subjects who request me," says Troyat when he was asked why he wrote so much. And subjects may come from a conversation with a friend, from reading the news in brief. It's simple. You only need a cup of coffee, to get up early (7:00 A.M for Henri Troyat, 6:00 A.M for Juliette Benzoni, 6:30 A.M for Madeleine Chapsal). Generally, these prolific authors do plan nothing; write a book at a stretch as blood or nerve flow. The getting up record man is Max Gallo. From 4:00 A.M, at his home, this man is already at work. Since 1964, around 70 books of his have been published. This year, between November 2000 and May 2001, four volumes of his saga "Les Patriotes" (Fayard editor) have been published.(…) According to the famous adage "the future belongs to those who get up early," these graph maniacs somehow insomniacs like to get up with the rooster.
Every morning in her home at Saint-Mandé, near Paris, Juliette Benzoni, chouanne of historical novel, sits also at her desk. Two or three cups of coffee – for two or three hours of writing. No more. Ninety to one hundred pages a month. Like Max Gallo, she writes a book from the beginning till the end and then goes over it again. A book asks her about seven months for around six hundred pages: "I give myself a month to do nothing and then two weeks to review my pages, she says. I write a lot because I am getting older. I have lots of stories to tell, I have six or seven in my drawers. I need some cigarettes, and cigarillos which are convenient because you do not swallow the smoke. In general, I take notes and then I tape directly on my LCD typewriting machine. Then I give the manuscript to my daughter who types it again but on her computer and gives a floppy disk to my editor. The computer is an enemy for me. The first time I have opened one, I saw appearing on the screen "going to sleep", and then you understand … "(…)

Therefore, how does the literary criticism react as it is already crumbling under the weight of increasing novel production? It grinds. In editorial offices, it is not unusual to hear that kind of remark, "Oh, again a book of so-and-so" Or "Again this one! " So, they prefer to forget. They do a great article for the first volume of the new saga of so-and-so, and then they stand aside. If the author has certain notoriety, the public will wait for the continuation. This is the case for most of these pen-addicts. The books of Gallo, Chapsal and Benzoni expect nothing from literary critics. They have their cruising speed. Such is the strange paradox of these best-sellers: the less there are readers, the more they are published, the more they sell.
Juliette Benzoni : the Chouan historical novelist by Sebastien Le Fol (Juin 1997)

Juliette Benzoni: the Chouan historical novelist by Sebastien Le Fol (June 1997)
"Secret d'Etat", her new bookseries tells the passion of a Henri IV's grand-son for a maid of honor to Anne of Austria.
This is the romantic chouan historical novelist, the Agatha Christie of court intrigues. Juliette Benzoni prances on the top of bestsellers lists for nearly thirty years. An example: her bookseries "Le Boiteux de Varsovie" has been sold at nearly 800,000 copies. However, criticism snubs her books and Ms. Benzoni causes retching to some historians. Specialists do not like to take liberties with their discipline.
"I am a woman without stories who chose the one of others," ironizing while she is welcoming you in her mansion of Napoleon III style, at Saint-Mande which smells the good oldtime charm.
A "Cliffhanger" published in France-Soir
Juliette Benzoni fell into the cauldron of history when she was a  little girl. Student at very uptight "Demoiselles Désir" then to the College of Fenelon and Collège d'Hulst, Miss Benzoni prefers the adventures of Alexander Dumas to trigonometry. Married to a doctor from Dijon, she haunts the libraries of that city where she reads about Burgundy during the Middle Ages. That is where was born the bookseries of Catherine, which takes place at the time of Joan of Arc.
Back in Paris, Juliette Benzoni made her debut in journalism. She writes historical articles for Confidences et L'Histoire pour tous.The "Journal du Dimanche" assigned her to write portraits of celebrities from literature and cinema. She met Jean Cocteau in Milly-la-Forêt. "I had met the wizard Merlin that day", inspect the wardrobe of Jean Marais and she is welcomed by Erich Von Stroheim with a " you are clean for a journalist. "
In the early '60s, Juliette Benzoni began the Catherine bookseries, built on the Golden Fleece Legend. Immediate success. Pierre Lazareff publishes the series as a cliffhanger in France-Soir after Angelique. Therefore, her popularity never stops growing. After Marianne, une étoile pour Napoleon, she creates the saga of the Gerfaut, inspired by the adventures of Gilles de Tournemine, gentleman from Britany involved in The Affair of the Diamond Necklace. will follow Les Loups de Lauzargues, La Florentine et Les Treize Vents.Secret d'Etat, her new story should take place in the seventeenth century. The readers will be introduced to François de Bourbon-Vendôme, Prince de Martigues, grand-son of Henri IV and Gabrielle d'Estrée and to the little Sylvie de Valaine whose family was murdered by order of Cardinal Richelieu. The passion between the two young people will be the theme of this saga full of bounces. From Fronde riot to the birth of Louis XIV through the dirty tricks of the cardinal, Juliette Benzoni's readers will get value from their money. A few days after its publishing, La Chambre de la reine, the first of four volumes has been selected "star book" of several book clubs.
The life in CastlesJuliette Benzoni's success owes much to her familiarity with History. The writer walks in the past with disconcerting ease. Details or anecdotes of all kind do not get past her. She gets her inspiration by a close eye at History. With her, we are witnessing the wedding nights of royalty (Dans le lit des rois et Dans le lit des reines). Juliette Benzoni is on familiar terms with princes and receives the confidences of old stones. By reading her, readers have the feeling of the life in castles. Juliette Benzoni does not hide her sympathy for the princes of the ancien regime: "I am a little bit of a Chouan. I am not fond of revolutionaries". She can talk for hours about the wars in Vendée. Each year, she grants herself two weeks of vacation at La Trinité-sur-Mer, a few miles from Quiberon, a highsite of the Chouan wars. For sure, History is an incurable disease.
No Comments »
No comments yet.