Press
n this page, I will gather some rare stuffs – french articles I have translated ….. Look :
To go to page 2 for some more, click HERE
On page 2, a new article from 1995 translated  !!!

The success of "passed on from person to person"
Juliette Benzoni, History under her skin
Every week this summer, the adventure of a successful writer acclaimed by the public, away from the media attention. Today, the Doyenne of historical novels. 
To this day, Juliette Benzoni has just put an end to her latest novel. Like with all her books, it took her seven months to write it. "The first month, I prepare myself and do researches. Then I write", she explains. For years, she ran to libraries in search of anecdotes and adventures to tell.
Now, it is Anne, her daughter, who does the research on internet and corrects her manuscripts. Very rigorous, the novelist forces herself upon a strict schedule to which she always stands up to. Every morning she sits down in front of her old typewriter for three hours. No draft, just a plan. The characters, dates, colors: everything is in her head.
The rest of her day is mostly spent in reading. She loves English thrillers and historical novels – those of Agatha Christie, Ellis Peters, Anne Perry and Ken Follett – she appreciates Eric Emmanuel Schmitt and Marc Levy, but "is not fond" of Proust. "I like him and I do not like him at the same time, she said. He's a bit boring! "She watches a bit television, especially the Mass every Sunday, and does a crossword puzzle to train her memory. She often receives visits in her house at Saint-Mandé. Friends and neighbors come to share little cakes and drink coffee – "the one of George Clooney!" she specifies.
At nearly 92 years, Juliette Benzoni is the Doyenne of historical novels. In her career of fifty years, she has written nearly 80 novels, "two every fourteen months," she indicates. Translated into twenty languages, her books have sold over 300 million. It is from her passion for History that Juliette Benzoni draws her energy. The novelist had "fallen into the pot" at the age of 9, discovering Jeanne of Arc in a guide. "It was a shock," she remembers. The reading of "The Three Musketeers" by Alexandre Dumas and Victor Hugo, finally convinces her.
The Italian Renaissance, the time of the Crusades, the Hundred Years War: every period of History inspires her frescoes in which Kings, Princesses, Duchesses and Knights love, betray, fight each other. Through the eye of beautiful heroines – Fiora, Hortense, and Sylvie – she leads her reader in the alcoves of castles and in gilded palaces, bringing back to life, through the pages, Cardinal Richelieu, Louis XIV, Marie Antoinette and Charles X. However, she never writes beyond the 1930's. "This is a time I lived in and which does not appeal to me. I do not want to talk about the War"; she explains.
Despite of the enthusiasm caused by most of her books, the media have dedicated her only small attention. "I was not much solicited. But I had all the same from time to time the honor of the magazine "Figaro Littéraire"! she says. I have been immediately classified as a "Popular Novelist". It has long exasperated me. If this means that one is well read, all right. But if that means it is more or less sloppy writing … it annoys her. Whatever. It is first of all for her readers that Juliette Benzoni writes. Her ambition? "To entertain, while at the same time impart something to them." The thought that she may disappoint them, haunts her at each new novel. "I am always also afraid. I hope it will go well but I'm not sure. "she says. "She always worries. " confirms her daughter. "Writing means a lot of sleepless nights," says the novelist. But it is also a great way to escape, which let her for a while turn away from the tragedy that changed her life: the sudden death of her son, Jean-Francois, nearly twenty years ago.
Today, the letters of her admirers are her greatest reward. "What I enjoy the most is when someone tells me, he or she was sick, at the hospital and that my book makes them feel good," she says. But the most illustrious letter she had ever received is the one in the 1980s by a man named Ronald Reagan. The President of the United States and his wife, Nancy, was thanking her for her description of the Independence War in "Le Gerfaut" (The Lure of the Falcon), book series of four volumes published from 1976 to 1981, by Trevise Publisher. It is also for that kind of surprises that Juliette Benzoni still signs white pages. And she hopes to go on, "as God lends her life."
JEANNE FERNEY for LaCroix.com –  2012
(Original French Article Translated by Frédérique and Mistral)


ere, an article in the newspaper "Le Point" from 2011
(on the left, the original french article)
At 91 years old, Juliette Benzoni rules over historical novels for half a century and prays before writing.
« I think that I have written around 80 books, haven't I ? » At 91 years old, Juliette Benzoni, the Queen of French historical novel, does not count the books anymore, neither the success. Criticism may well snub her for half a century, she resigned herself… at the rate of tens of thousands of copies, sold after each new publication. "At first, I was upset but I did not stop! Even if the term of "popular novel" in the sens of "you sell many books, bravo, well done but you don't sell them to the elite" terrified me!". On editorial terms, "she runs in the category of Higgins Clark" says her publisher.  On the literary, "she is in the league of Dumas and Hugo", says Alain Decaux (famous French historian). You bet she is ! From secrets of the alcove to coups of the Stare, from innocent young maidens to volcanic whores, from Florence of Lorenzo de Medici to Orleans of the Maid (Joan of Arc), from the Kings of France to the Bastards of History, Benzoni, this is Hugo! But who would have met Ken Follet at the corner of a cathedrale. This is Dumas! But who would have exchanged Auguste Maquet for Barbara Cartland. Like Zola, Sue and other feature writes who have written some master-pieces in the press of their own centuries, Juliette Benzoni has won her spurs in the columns of "France-Soir" (newspaper) with her "Catherine", her first book series, which tells the adventures of a young bourgeois girl in search of her great love at the time of the "Hundred Years War" : "I promise you as much as for the "Angelique" book series", told her the manager of Opera Mundi. "Same glory and same success. So Let's get to work!".
 The passionée of History gave herself a mission: Teach some things to the French people while entertaining them at the same time.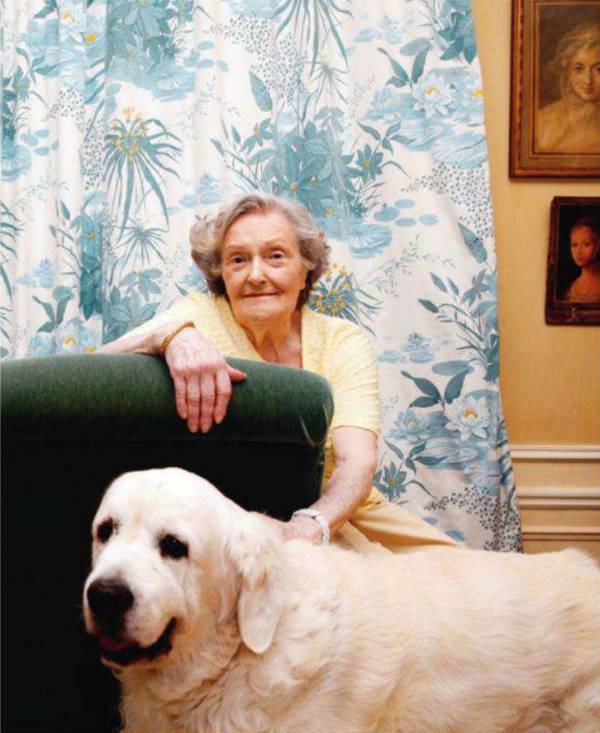 After that, she has never stopped writting. There followed the book series "Marianne", "Les Chevaliers", "Le Temps des Poisons" and the latest one "La chimère d'or des Borgia" where Aldo Morosini (the same hero from "Le Boiteux de Varsovie") will have to search for a jewel lost during the sinking of the "Titanic". Her "device" is to pray. One "Veni Creator" every morning and at each book release, a mass of thanksgiving. The Holy spirit, surely, but also a lively intelligence who knows perfectly the "page
turner" techniques (a word which she probably does not even know exists). In her sagas, Juliette Benzoni has found the perfact balance between knowledge and imagination. Attached to the veracity of each detail, she is nonetheless a novelist; and she gets involved with malice in the puzzles of History : "I remain convinced that the Duke of Beaufort, her hero in "Secret d'Etat", is the real father of Louis XIV ! ". A woman of joy, of faith, of reading and writing, she is also a woman of experience, strong and solitary. A wife twice widowed. A mother, torn apart by the sudden death of her son, who has thrown herself on her knees in the writing. A distant woman runner, discreet and persistent who, even she strives to say, with her so smiling tone that she is a bookworm and "that's all ! " – who is on the same level as her idols. After her debut, her task was to "teach some things to the French people while entertaining them at the same time".  Even though posterity seems to want to retain only the second half of the sentence, it is time to restore the balance and the truth : Mrs Benzoni is a great writer.
ere, an article in the newspaper "L'Express" from 2011 (on the left, the original french article)
Juliette Benzoni, studious nostalgic by Marianne Payot (L'Express)
At 90 years old, Juliette Benzoni published a collection of short stories and a novel. This passionate of History is also a frantic worker.
And even two! Nothing can stop Juliette Benzoni, 90 Springs, who has just published two books simultaneously: a collection of short-stories edited by Perrin ("Dans les lits des Reines : Les amants") and a new novel edited by Plon ("La Chimère d'or des Borgia"), all in all, over 760 pages.
The Dean of historical novel has an untamed rythm after nearly fifty years. Her recipe? Passion and work! – At precisely 7:45 AM, she sits every day, in front of her desk at her home in Saint-Mande (Val-de-Marne). Less appreciated by the media, but popular with the public (she has sold over 100 million copies worldwide of her complete works, which include around 80 titles), Juliette Benzoni, great admirer of Dumas, has abandoned long ago for the "Fifth Republic" to live in the past centuries. Lively style and impeccable memory, she should once again delight her faithful readers with her 2011 vintage. Who will be swept away in the royal alcoves (Messalina, Isabelle of England, Marguerite of Navarre, Queen Hortense, Marie-Antoinette …), then journey in the company of a Texan billionaire, in search of the gold chimera and emeralds of Cesar Borgia, to please the heart of a singer, who claims to be a descendant of the Borgia's. Until the next vintage…
ere, an article in a newspaper about literature "Figaro" from April 2003 (on the left, the original french article)
By Jacques de Saint-Victor.
translated by Frederique & Mistral

"It's a little early for an obituary, right?" At 82, Juliette Benzoni is still hale and hearty and keeps the sense of humour. In her small house at Saint-Mande which is built in a quiet street and leads to the Zoo of Vincennes, the Queen of Historical Romance lives alone with her daughter. She ressembles these novelists from across the Channel, which, between two cups of tea, shed blood in their books and then have one more slice of pudding. Stoke of luck, Juliette Benzoni loves English policemen. With her, you do not enter in an English manor, or walk in the docks of London, but through the gates of the Tuileries Palace in 1792 or in a Commandery of Knights Templar in Provence … After sixty historical books – "or a little more, I have lost ount" – 300 million copies sold worldwide, Juliette Benzoni, open and energetic, has kept all the enthusiasm and freshness of her beginnings when she was a writer of love stories for the magazine Confidence. "The more I study History and its mysteries, the more I am passionate."
She has just finished the second volume of a great saga about knights which will be in bookstores in the beginning of March and she is already writting the next one. "This morning, I was immersed in the terrible trials of the Templars," she says with a gourmand expression on her face. Despite her success, Juliette Benzoni remains an unknown star. The litterature  TV shows are sulky with her. She faces this relative indifference with humour. "Once I was interviewed by Elkabbach because I was the one who-has-never-been-invited-by-Pivot" (the most popular litterature  TV show host). She had all the same some satisfactions of self-esteem, especially when Ronald Reagan (President of USA from 1981-1989) wrote in person to congratulate her for her book series about the American Independence war,  Le Gerfaut (The Lure of the Falcon). She confessed simply  "that pleased me very much."
To make money is not her motive. Her life is simple and not luxurious. She goes once a year in a small hotel at Trinité-sur-mer (Brittany). And, for some foul legal reasons, she does not even own her house! Juliette writes first of all for herself – to escape the presence. She has written about almost every period of French History without going ever beyond the 30′s. She admits that she has never enjoyed her time period. "Actually, I do not want to relive what I have lived. " . Indeed the Queen of edition has not been spared by life. A father ruined in 1941, two dead husbands, her only son died in tragic circumstances, Juliette Benzoni said very modest, that she had her share of suffering. It is precisely because of these sad accidents of life that led her to start writing. "When I was married, I used to live in the province and I have read a lot. But I did not believe I was able to publish."
photo by Mr Archambault
At the death of her first husband in the '50s, fate decided for her. To raise her two children, she had to seek a job. After an ad in the newspaper Le Figaro, she started writing. Afterward everything changed. She wrote the following saga after "Angelique" from Anne and Serge Golon, then followed her first succesful bestseller, several television series, her books translated into over twenty languages. Fifty years later, her novels, at the rate of two per year, are still among the bestsellers. The recipe of this success? A preference of others, a strong sense of images – "I always thought for the camera" – a passion for the mysteries, "I'm Scorpio, so I like riddles", and great discipline. "I try to write three pages a day, Sundays and holidays included. It became a habit." . Her life revolves around writing. Each book seems to be a new challenge for her. "You know, everything is so short-lived". Despite her success, she continues to work hard. Her works require two years of documentation. Numerous history books encumbering her whole house from the cellar to the bedrooms of the first floor, where she wrote in the morning, from the corridors to the summer-house in the garden. She is haunted by the danger of anachronism, details which are false. Without giving names, she was surprised to see these young historical novelists who makes so startling anachronisms. "How can an editor accept this? "

But Queen Juliette is generally a good friend because she loves people, stories, life. Basically, she enjoys the pleasures of most French people. She plays sometimes to the Lotto, watches TV – especially "Rive droite Rive gauche" broadcasted by Thierry Ardisson – and, while pretending not to be interested in politics, she shows Gaullist beliefs (the portrait of General De Gaulle thrones in her library) and Christian beliefs. "But be sure that I am entirely against G. Bush. How dare to ask for prayers to God  then go to bombard a nation – that is outrageous. "

Her readings are fairly traditional : Dumas, Stendhal, Barbey d'Aurevilly or La Varende. All authors who have attempted first to entertain their audience, whatever the cost, despite the ups and downs of their own life. The true pain, she wants to keep for herself, to not spread them in her books. "This withholding is perhaps the result of an education.". Distant descendant of General Mangin, Juliette Benzoni belongs to the France attached to its roots, a bit nostalgic for royalty -" it's true that I do not like the revolution "- but who is not sectarian, and who , as Napoleon said, " assumes everything from Clovis to Robespierre." There still remains a bit of the "old France" perfume" who surprises us by being well-off in the shrewdness of the elite, she said, as it should be, Madame to talk to the Countess of Paris, she uses some outdated terms, evokes "the year of grace 1950″ …

But this is not snobbery, she is only living in the past. Basically, her tastes are unceremoniously. And so she regrets that Alexandre Dumas, her master, is now resting at the Panthéon. "He must be bored there. It is imposing and sinister. ". Everything of the opposite of what she loves.
ere, an article in a newspaper about literature "Figaro Littéraire" from 2004, where Juliette Benzoni has chosen 3 books for the readers inher favorite bookstore from Saint-Mandé – above the original French article :
The Translation :
Presents from the author :
The Novelist  Juliette Benzoni has privileged the Image
"I have the cult of  image"
he is a faithful customer, who goes, in this cold morning of November, to the bookstore "Monaco" from Saint-Mandé. At 83 years old, the novelist Juliette Benzoni (300 million of copies around the world), keeps a good health. Faithful to the place – she lives in the neighbourhood – the author of "Marie des Intrigues" (Plon Edition), known for her great passion of the big History and the small ones that she tells with maestria, is first seduced by a book about Chinese Paintings with a poetic tittle : "Toute beauté est singulière" from François Cheng. "I have the cult of image", says the one who still do not spend a day without writing her three pages, wheven It's raining or winding.

By Mohammed Aïssaoui.

Presents from the author : The novelist Juliette Benzoni has chosen 3 beautiful books in the Monaco bookstore from Saint Mandé.
ove, power and treasures… the ingredients which have made the success of Juliette Benzoni are more than even present in her newest novel where we read the streamer : "Marie des Intrigues" ("The plotting Marie") – which will be continued in "Marie des passions" ("the passionate Marie"). We will know everything about Marie of Rohan-Montbazon, goddaughter of Mary of Medicis, eveything about her life in the Court of Louis XIII.We were expected that the novelist, in her habit of historical series, will pick from the "beautiful books" section, some books about her favorite subject. Surprise! Juliette Benzoni prefers for her first choices, two books about painting. She explains : " I have the cult of image, and a passion for painting. You know, it is an image (a picture of Jeanne of Arc on the stake) which has determinated my life and has given me the love of writing" tells us the winner of Alexandre Dumas price.
Her favorite book : "Toute beauté est singulière"("Every beauty is singular") , subtittled "Peintres chinois de la Voie excentrique" ( Chinese painting from eccentric way"), the texts are from François Cheng from the French Academy. "Imagine a kind of ideal catalogue of eccentric artists from our old West and it is like flipping in mind curious images, often passionate, almost always marginal", explains the author in the forword of his book of which more than for another one we can say it is a beautiful book. "In China, on the contrary, the big Eccentricity managed in any time to hold the high step in the official art. Until embody, with the eyes of some free spirits and of certain literate men fond of irreverence,  the highest expression of the Beauty." This approach has seduced the novelist who has been translated in more than twenty languages and who can stop flipping those beautiful pictures. So much a book can be read in a bed but this kind of book must be contemplating in flat on a table", she says!

he second book she has chosen is not far from the taste already seen before but this time Juliette Benzoni adds an other passion of hers (delicious and ent
husiastic woman, she has apparently a lot) : "Fresques des villas romaines" ("Frescos from Roman villas"). Then again, she explains it simply : "All which is Italian touches me. I like Roma and its art.". Her bookseller, Jean-Claude Monaco, made her discover it, and she wants to talk about his quality. " A true old-fashioned bookseller does not sell a book as a pound of strawberry!" says the lady of sixty books.
Admirers of Roman villas, you have to know that the book in question is about the history of the wall painting during the Ceasars' epoch. Ornamental it aimed at enlarging internal spaces of practitioners' houses by using perspectives and still-life deceptions. We can see there many frescos from various locations : Roma, Pompéi, Herculanum, Oplontis… For each one, a detailed study, reproductions, plans and rises, etc.
Juliette Benzoni may like the painting but she does not release History at all. We are reassured when she chooses "Pharaon" ("Pharaoh"), the book of the successful exhibition, presented to the Institute of the Arab World, in Paris, until April 10th, 2005. But let Christian Jacq be reassured : the novelist does not intend to occupy the favourite ground of our Egyptologist of the publishing. Juliette considers that there is well enough sphinx in History of France!